Return to Headlines
SMS Middle School presents Camp Rock: The Musical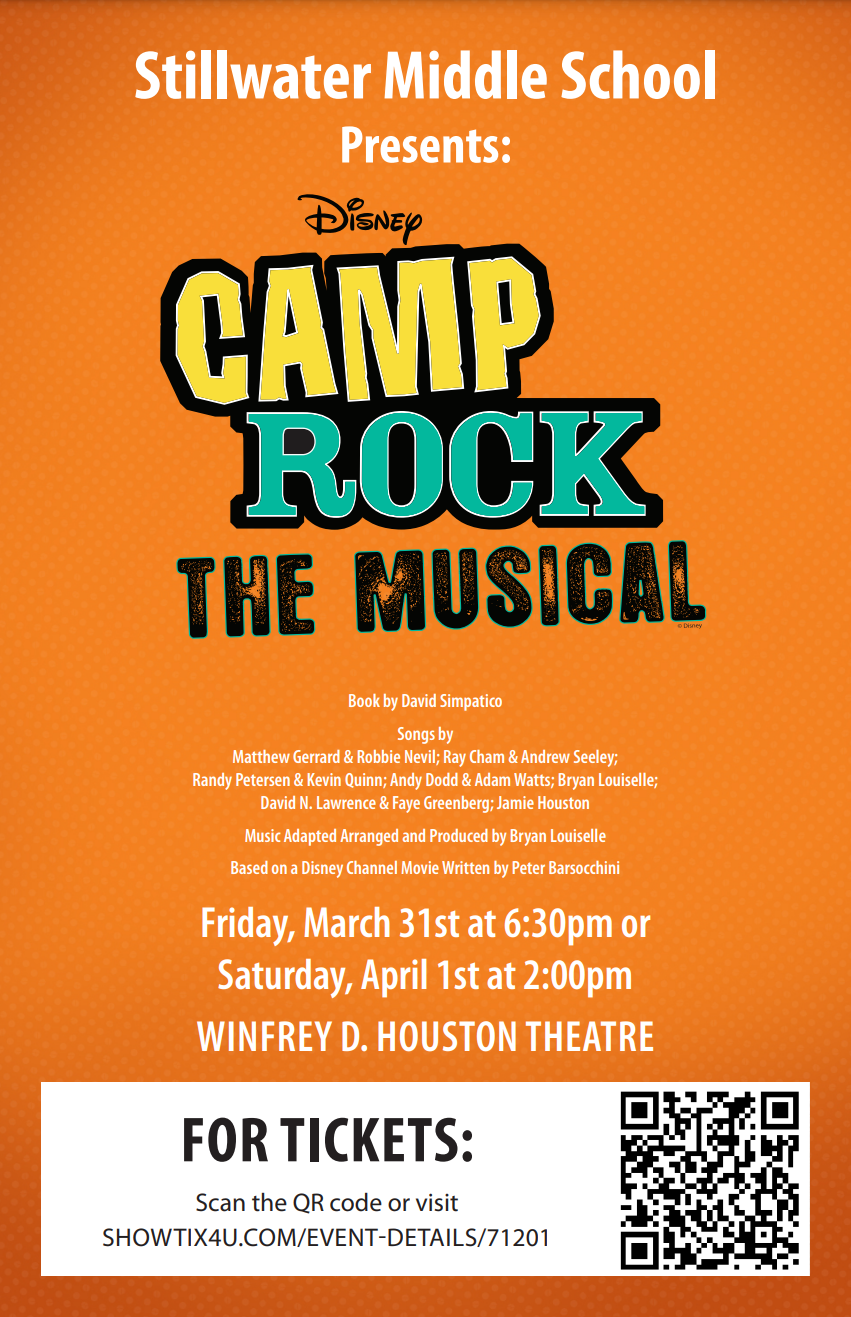 On March 31 and April 1, Stillwater Middle School Theatre will present Disney's Camp Rock the Musical at the Winfrey D. Houston Theatre in the Stillwater Community Center.
Disney's Camp Rock: The Musical is a one-act musical comedy based on Disney Channel's Camp Rock and its sequel Camp Rock 2: The Final Jam featuring hit songs and characters from the two movies. It is a part of the Disney Channel Onstage collection by Music Theatre International.
"At Stillwater Public Schools, we are all about giving students opportunities to get involved in things they are passionate about," says SMS Theatre Teacher Janita Cormell. "Musical Theatre is one of those classes that make students excited about coming to school each day."
There are 29 children involved in the production. 28 performers act in the play and serve as the crew, while one student doubles as a stage manager during practices and a sound technician during performances. Students are in charge of designing the set and creating props and costumes for the show. Cormell says many students spent their lunches collaborating for several months to develop the choreography for the show. "This 7th grade class has worked hard to develop exciting choreography, create meaningful characters and deliver amazing vocals," she says. "We have so many triple threats in this group who can sing, dance and act!"
A strong theatre community in Stillwater contributes to student talent, Cormell says. Town and Gown Theatre, OSU Theatre, and Stillwater Children's Theatre offer many opportunities for the community to engage with the performing arts, while Stillwater Public Schools offers theatre classes for grades seven through twelve and after-school programs at two elementary schools.
Cormel says that community has come together to help with this production. "The theatre teachers at SJHS and SHS, Anita Cawlfield and Elizabeth Ziegler, have loaned set pieces and props. Garret Redding and his Tech Theatre students recently put on a workshop for the seventh grade students. Amy Guthrie and the Stillwater Children's Theatre have also loaned us props for the show. Shawn Allen and the Winfrey D. Houston staff have been so great to work with and will make our show look amazing with lighting and sound," she says. "We even received donated Christmas trees through social media posts."
The funding for the MTI Broadway Showkit is provided by the Stillwater Public Education Foundation's Onward Arts campaign. This is the eleventh Showkit they have funded for SMS in the past ten years.
"I am extremely proud of the hard work each of our students have put into this show and feel privileged to work in a district that values performing arts," says Cormell.
SMS will present Camp Rock: The Musical for two shows, March 31 at 6:30pm and April 1 at 2:00pm at the Winfrey D. Houston Theatre in the Stillwater Community Center. Tickets ($7 for adults, $5 for students, free for children under four) are available now at: www.stillwaterschools.com/camprock