Return to Headlines
Richmond named National Blue Ribbon School
Stillwater's Richmond Elementary Named National Blue Ribbon School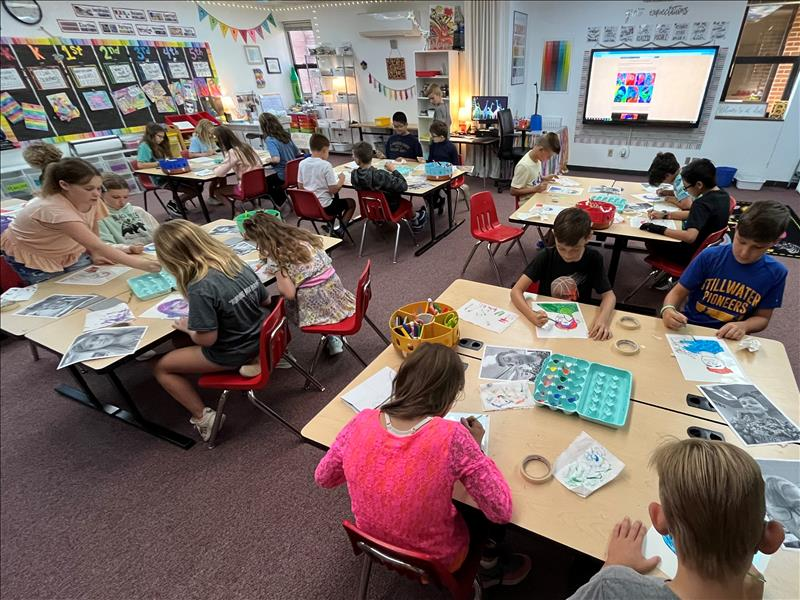 (Stillwater, Oklahoma, September 19, 2023) Stillwater Public Schools is proud to announce the U.S. Department of Education has named Richmond Elementary as a National Blue Ribbon
School for 2023. This esteemed honor is based on a school's overall academic performance or progress in closing achievement gaps among student groups on assessments.
"The honorees for our 2023 National Blue Ribbon Schools Award have set a national example for what it means to Raise the Bar in education," said U.S. Secretary of Education Miguel Cardona. "The leaders, educators, and staff at our National Blue Ribbon Schools continually inspire me with their dedication to fostering academic excellence and building positive school cultures that support students of all backgrounds to thrive academically, socially, and emotionally."
Richmond is joined by three Oklahoma schools in the honor this year, Tulsa's Booker T. Washington High School, Cleora Public School in Afton, and Muskogee's Sadler Arts Academy, all of whom were nominated in the Exemplary High Performing School category, placing them among their state's highest performing schools as measured by state assessments or nationally normed tests.
Principal Joy Cawood notes, "I'm so proud of the staff and students of Richmond , the culture promotes a love of learning and of school. For over 20 years, the incredible staff has committed to working within common practices to create a highly functional and successful school. The staff in this building are the heartbeat of the success that we've seen."
An excerpt from the school's application states, "Richmond Elementary is a pre-kindergarten through 5th grade school serving approximately 355 students in the university community of Stillwater, Oklahoma. With a twenty plus year commitment to Great Expectations, a program which helps the school community to focus on both high expectations in academic achievement as well as character development, Richmond consistently offers students a calm and joyful learning environment where students are able to excel academically. The culture of the school is steeped in mutual respect for all, creating space for students to engage deeply with all content areas while also having fun and building relationships with peers and teachers. We are grounded in Richmond core values: Whole Child, in our efforts to develop a child, we will set the mark high for the character we instill and expect; Academics, we believe all children can learn and grow at high levels and we will collaborate and innovate to reach all students; and Environment, a safe, calm, joyful and welcoming environment will be the standard stakeholders can expect from their teachers and administration."
The U.S. Department of Education release announcing the Blue Ribbon schools reads, "While awardee schools represent the diverse fabric of American schools, they also share some core elements. National Blue Ribbon School leaders articulate a vision of excellence and hold everyone to high standards. They demonstrate effective and innovative teaching and learning, and the schools value and support teachers and staff through meaningful professional learning. Data from many sources are used to drive instruction and every student strives for success. Families, communities, and educators work together toward common goals."
"I am so proud of Joy, the staff at Richmond, the students, and so many others in years past that have led to this honor," says Superintendent Uwe Gordon. "They've worked so hard to build a great culture that fosters student learning and citizenship. We couldn't be more proud."
More information about Richmond and the other 2023 National Blue Ribbon Schools is available at www.nationalblueribbonschools.ed.gov.
###