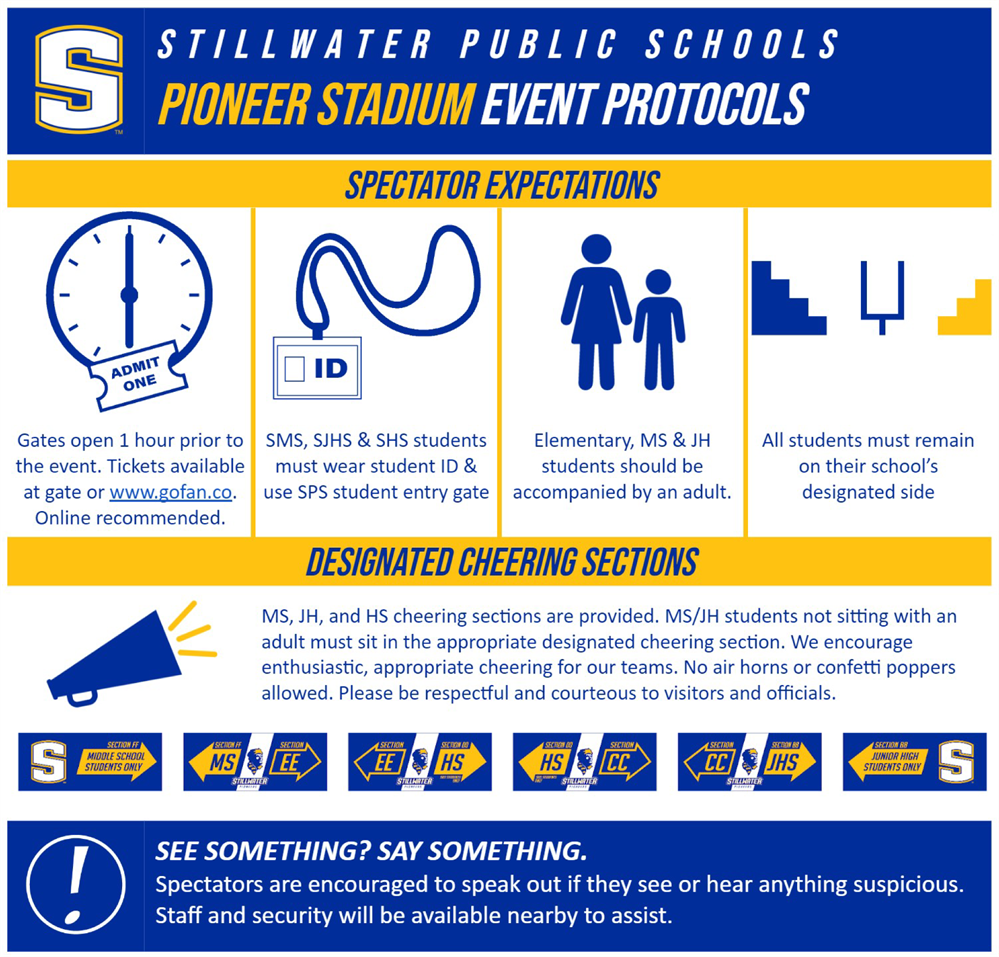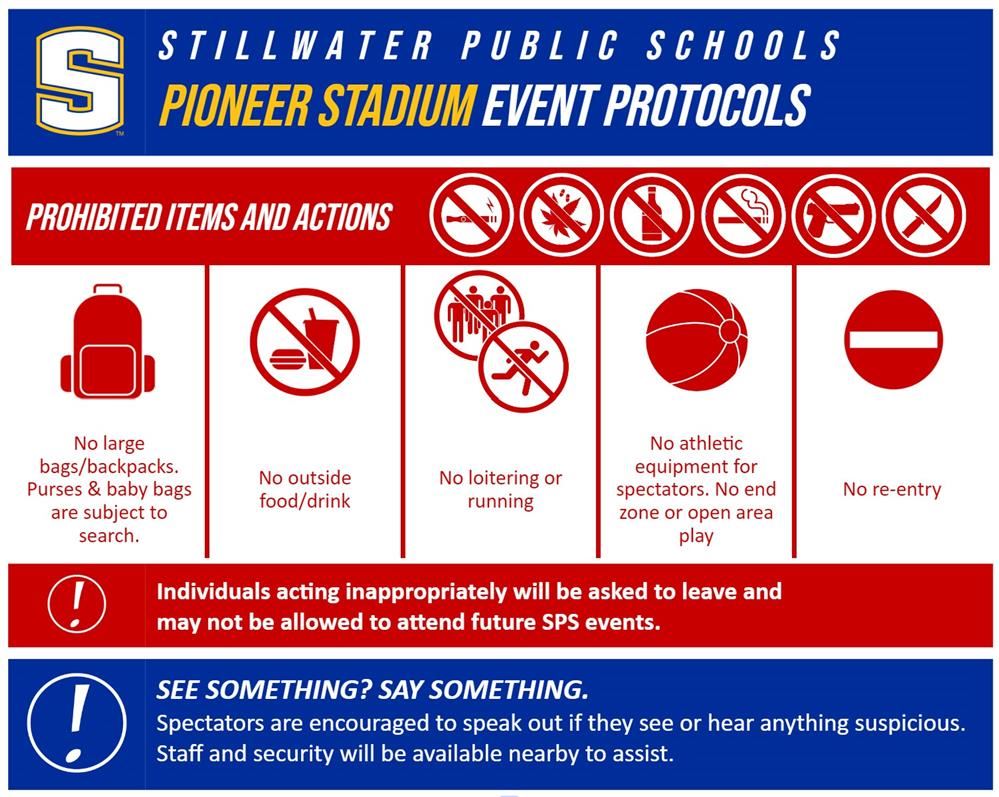 SPS Spectator Guidelines
Gates will open for the public 1 - hour prior to the event (6:00 pm for home football games)

SMS, SJHS & SHS students must wear district issued student ID for entry.

Elementary, MS, and JH students should be accompanied by an adult.

SPS Middle School, Junior High, and High School students must enter through the designated student entry gate.

There will be no re-entry to the event

No large bags/backpacks are allowed into the event. Purses and baby bags are subject to to search. Approved family care items such as diapers, formula, etc. will be allowed.

No outside food or drink will be allowed.

Individuals acting inappropriately will be asked to leave and many not be allowed to attend future SPS events.

No unauthorized individuals will be allowed on sidelines

No loitering allowed in school parking lots or on school property. Students are not allowed to loiter or congregate in the concourse area, in bleacher aisles, or run around the facility

Designated Cheering Sections for MS, JH, and HS students will be provided, students not sitting with accompanying adult must sit in the designated area.

Cheering Section Etiquette: We encourage enthusiastic participation in cheering for our teams. To ensure safety and order, please remain in the designated cheering areas. This will contribute to an organized and spirited event.

All students must remain on the side of the arena or stadium designated for their school's fan base.

No Athletic Equipment (Footballs, Basketballs, etc.) Permitted: To minimize disruption, and because no end zone or open area play will be allowed, athletic equipment like footballs, soccer balls, etc. won't be allowed through the gates. Everyone should remain in the stands to enjoy the game.

SEE SOMETHING, SAY SOMETHING: SPECTATORS ARE ENCOURAGED TO SPEAK OUT IF THEY SEE OR HEAR ANYTHING SUSPICIOUS. STAFF AND SECURITY WILL BE AVAILABLE NEARBY TO ASSIST.
Opponent Spectator Guidelines
Below you'll find links to opponent's athletic safety protocols that have been submitted to us or their athletic websites. We'll work to keep this list as updated as possible, but please know that specific policies at any site may change without notice to our office. If unsure what to expect at away locations, please contact the host school's athletics, district, or school office to inquire.

More schools to be added soon.